Customization
One of the nice things about having your own PPC is the ability to customize it to your hearts desire. As long as you don't add too much weight, keep it balanced and make sure that your changes don't affect the safety of your machine, you can be as creative as you like. Here are some of the things I've added to my PPC:
Wheel Brake
Here's the wheel brake I added based on a design by Q of www.powerchutes.com . For more details, see Q's page under homebrew.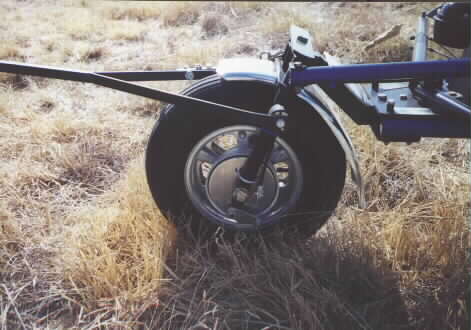 Tug
I was at a fly in at Lake Texoma which is on the border between Texas and Oklahoma (hence the name) last year and met some folks from Kansas there. They were 6 chuter dealers who also manufactured trailers. Anyway they had these tugs on their machines and when my buddy and I found out they were for sale, we snapped them up. These were the prototypes and were removed from their machines. (note: I don't know the name or email address of the dealer, if anyone has it, let me know and I'll add a link).
GPS
One the US government's successes was the creation of a Global Positioning System. Small, handheld devices are for sale for extremely reasonable prices and are very useful on ultralights. Around here things are pretty flat and after following flocks of birds and playing around in local fields it's easy to get disoriented. With a GPS you just push a button and it points the way.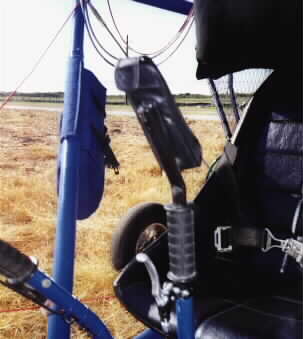 ---